Thank You Pritchard Family and Jamie Kaban from the Kelowna Toyota Dealership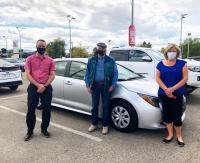 May 14, 2021
Thank you Pritchard family and Jamie Kaban from the Kelowna Toyota dealership!!
As NOW Canada has been growing so much over the last couple years, we have developed a need for some additional transportation. Before we even had a chance to ask, a generous community member offered to lease a car for us for a year! For our clients this represents the ability to be escorted to appointments safely (and in style!), and for our staff this gift will enable us to travel between our expanding locations and increase our ability to serve our clients safely and with dignity. We are incredibly grateful for this car and the opportunities it provides.
A huge thank you to the Pritchard family for filling a need and for all you do for our community!! We also want to say thank you to Jamie Kaban at the Toyota dealership as he was instrumental in making this possible for us!